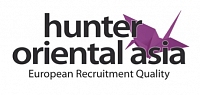 ISPA China
HUNTERORIENTAL ASIA
5/F, Somekh Building Rockbund
149 Yuanmingyuan Road, Huangpu District
Shanghai 200002
中国上海市圆明园路149号洛克外滩源哈密大厦5层
Phone: +86 21 3120 3134
Email: info@hunteroriental.asia
Web Site: http://www.hunteroriental.asia/
Hunteroriental Asia is a recruitment company headquartered in Shanghai with Scandinavian roots and high ethical standards. We have solved a number of assignments all over Asia. For us recruitment is not just about a perfect resume. Rather it is a combination of background, personality, mind-set and organisational culture match. We are known for our well-structured, efficient and high quality recruitment process through which we deliver superior service towards our clients and candidates. The recruitment process moves through three main phases: attracting, developing and retaining.
The core strength of Hunteroriental Asia is the quality we bring to the Asian recruitment market, where we replace the customary short-term focused contingency based practice with high quality executive search. Our diverse consultancy team with broad industry expertise create long-term relationships based on mutual trust with clients through active account management and delivering results. Our unique competence network provides access to a comprehensive, worldwide candidate database (The Hunter Pyramid) at specialist and executive level. With a proven track record of providing high quality services at competitive prices, our clients include leading multinational and domestic companies in a number of different industries.
Our Services
Executive Search
Assessment (JTI/MPA/Saviio Map's)
Outplacement
100-Day plan
Industry Focus
Accounting & Finance
Human Resources
IT&T
Luxury & Leisure
FMCG
Real Estate
Construction, Engineering & Architecture
Renewable Energy & Green Technology
Life Sciences
Manufacturing & Industrial
Logistic, Transportation & Supply Chain
Oil, Gas & Chemical
Lars Thomasen
Managing Partner

Lars Thomasen has more than 20 years experience in the areas of recruitment, consulting and business development towards national- and international companies in Europe and Asia. He founded Hunteroriental Asia with HQ in Shanghai in 2010, with the vision of bringing European recruitment quality to the China market. Today Lars has a strong network in a range of industries especially in China and Hong Kong. Many years of management experience and a rich cultural understanding between Western and Asian cultures are key elements for the good results. He has a strong business- and strategic understanding of the market in a large variety of sectors, and has solved many assignments for especially European companies, who have or want a base in Asia.
aaaaaaaaa
Adele Roux
Associate Partner
Adele Roux has a master diploma from Toulouse Business School specialized in Human Resource. Doing her education she already worked in different companies (Airbus, HSBS and Total) on talent management, recruitment and career development.
After university she has worked as HR Business Partner / Team Manager in the recruitment business specialized in the finance and IT sector. She is very experienced in this field and worked with SMCs' to international companies.
Adele Roux is used to work with different cultures and speaks fluent French, English and German.